CrispMic®-Stereo Microphone
Description
LcT has developed a stereo microphone that captures clean speech at a distance in stereo sound to support video conferencing, web conferencing, and stereo recording. The CrispMic®–Stereo microphone allows participants to identify the locations of the speakers in a conference room. At a distance greater than ten feet, the CrispMic–Stereo can still record a speaker's voice clearly. The device meets the Microsoft Lync 2013 audio specification for stereo capture. The CrispMic–Stereo also performs well as the front-end for speech recognition software to improve robustness and reduce error rates. [Listen to Demo]

The CrispMic–Stereo is the first high-quality, low-profile, stereo USB microphone designed to support conference rooms. It utilizes next-generation smart microphone technology including microphone array, sound source localization, beam forming, and noise reduction.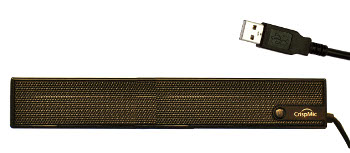 Available for Licensing and Sales
Our stereo microphone solution is available for licensing and sales to conference system manufacturers and integrators, microphone manufacturers, speech recognition system providers, and other business customers. Our engineers will provide R&D support. As an option for our customers, we can also manufacture the device with your product logo. Call for quote: 973-822-0377 or send email to: li[at]licreativetech.com.
Features
4-sensor microphone array
Beam forming
Noise reduction
Stereo output from one device
USB plug and play
Applications
Video and web conferencing
Large conference rooms
Stereo recording